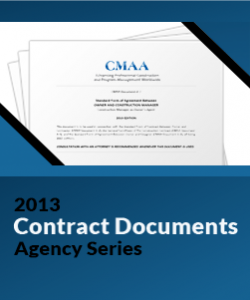 The Agency (A) Series of CMAA Standard Contract Documents are used to establish the contractual relationships among the parties when the Construction Manager is hired as the Owner's Agent. This specific Agency Series of four (4) CMAA documents provides any Owner the necessary standard forms for contract documents to establish the contractual terms between the Owner and CM, Owner & Contractor, Owner & Designer, and the General Conditions of the construction contract. These documents are suitable for the conventional design-bid-build delivery method. Use of the A series of CMAA contract documents are appropriate when the Owner's project is divided into separate contracts for design and construction (with one or more contractors). These documents can be used on either small or large projects.
Users should exercise independent judgment and may require the advice of legal counsel when deciding which documents are appropriate for a particular project.
The general conditions are an integral part of the contract for construction for any project and they are incorporated by reference into the Owner/Contractor or CM/Contractor agreement. They set forth the rights, responsibilities, and relationships of the Owner, Contractor, and CM.
Agency CM Series, 4 Document Set of contracts:
A-1: Standard Form of Agreement between Owner and CM, CM as Owner's Agent
A-2: Standard Form of Agreement between Owner and Contractor
A-3: General Conditions between Owner and Contractor
A-4: Standard Form of Agreement between Owner and Designer