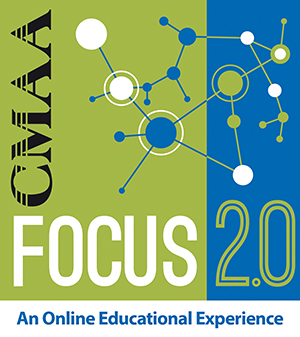 Exciting News! In order to further enhance your learning experience with CMAA, we will launch a new eLearning platform in late June. As part of the implementation process, it will be necessary for a brief planned downtime to the platform. Please note these dates to minimize interruptions: You will be unable to purchase NEW eLearning courses from June 8 – June 24, 2020, and you will be unable to access the eLearning platform from June 16 – June 24, 2020.
There were so many sessions planned for CMAA Focus20 in San Antonio... We don't want you to miss them.  Presenting CMAA Focus2.0 - an online educational experience.   Each online session provides between .5 and 2 PDHs for a total of 16.5.  
Keynote Address
Beyond Traffic: The Emergence Of A Connected City
Anthony Foxx, Former United States Secretary of Transportation
Session Description
Opening Plenary Session & Keynote
What Is A Leader?
Army Lieutenant Colonel Lisa Jaster
Session Description
Distributed Ledger Technology in Construction Management
Session Description
Money Ball for CEOs
Session Description
All Things Lean
Partner Session: Lean Construction Institute
Session Description
Building a Strong Leadership Culture Through Incentives
Session Description
Creating a Culture of Quality Within Your Organization - A New Vision!
Session Description
Creating Skilled Employees for the Construction Workforce
Session Description
Dispute Review Boards (DRB): Innovative Techniques for Avoiding and Resolving Disputes on Complex Projects
Partner Session: DRBF
Session Description
Drone Solutions and Integration into the Construction Management Workflow using Geospatial Applications
Session Description
Early Warning Signs of Construction Claims & Disputes for Owners & CMs
Session Description
Partnering in 2020
Session Description
San Antonio - How Design and Construction have Transformed the Community, Culture, and Enterprise
Session Description
Successful Hiring - How to Avoid the War on Talent
Session Description
Emerging Technology Trends in the Construction Industry
Session Description
The Good Owner
Partner Session: COAA
Session Description
Throw Away the Box: Learn How to Inspire Genius in Yourself and Innovation in Your Company
Session Description
If you were already registered for the in-person CMAA Focus20 event, you can convert your registration - details are available here.
Registration Fees 
CMAA Member - $375
Non-Member - $500