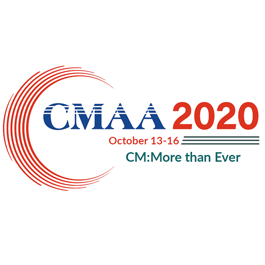 Why should I attend CMAA2020?
CMAA2020 offers education and networking opportunities for professionals from all aspects of the construction industry. The event is for any professional responsible for construction program/project management; service providers, owners and academics. Construction managers, owners, program/project managers, engineers, architects, contractors, and others interested in the construction industry will greatly benefit from this conference. As a registrant, you can choose to participate in the live events or access the content at your convenience for 90 days and earn more than 30 PDHs and CCM renewal points.

What are the different types of sessions?
Plenary Sessions: These sessions will be presented live on Tuesday, October 13 from 1:30 – 2:30 p.m. EDT and Thursday, October 15 from 12:15 – 1:15 p.m. EDT.

Scheduled Sessions: Sessions with a specific time indicated on the agenda will run live at that time. The speakers will be available on video and will answer audience questions. These sessions provide PDHs and CCM Renewal Points.

On-Demand Sessions: Recorded just for CMAA2020, these education sessions are available throughout the event and provide PDHs and CCM renewal points.

Virtual Town Halls are live panel discussions. Open to any event participant. They are moderated by a volunteer leader with the technology managed by a CMAA staff person. These are recorded and available on demand after October 18.

CMAAForums are small (20-25) participant groups of members with a common interest i.e. transportation, municipalities, or federal owners.

Sponsor Demos & Forums are dedicated time for top-level sponsors to host forums and to use them as they choose.

Organized Free Time (OFT) are social networking opportunities facilitated by CMAA organizational members and CMAA2020 sponsors.

CMAA Awards - Join us in recognizing the recipients of the Project Achievement Awards, the Mehdi Heydari Award and CMCI Coins of Excellence, the 2020 Inductees for the College of Fellows, and Individual Honors including, Distinguished Young Professional, Mark Hasso Educator of the Year, and Distinguished Owner Awards.
Will slides or handouts be available?
Yes, any speaker resources that were provided will be posted in the system. You will see links for the resources directly below the video player in each session.

What if I have multiple employees from my company that want to register for CMAA2020?
CMAA offers a group registration fee for five or more attendees. If you have more than five employees that would like to attend CMAA2020, you can purchase the group registration to maximize the savings! You must have all five names at the time of registration, no placeholders are permitted. Contact meetings@cmaanet.org if you have questions related to group registration and pricing.

Do I have to be registered for the CMAA2020 to attend an OFT Event?
Yes. All OFT events are part of the four-day live event and included in your registration package. You will be able to access OFT programs within the virtual environment on the start times on each day of the event.