Unless otherwise noted, all Conference events occur at the Philadelphia Marriott Downtown.
Philadelphia Marriott Downtown
1201 Market Street
Philadelphia, PA 19107
Phone 215-625-2900 1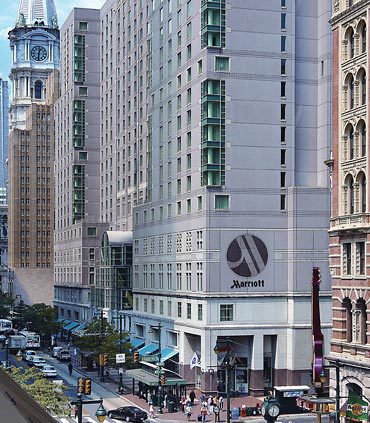 With a prime City Center location, the Philadelphia Marriott Downtown is just steps from Reading Terminal Market and Independence Hall.
Rates
$285 per night plus fees and state/local taxes.
Government Rate
Government rate rooms are available for direct city, county, state or federal government employees with proper ID at a the current prevailing rate. To secure your Government Rate room, please contact meetings@cmaanet.org.
All reservations must be made directly with the hotel and are accepted on a first-come, first-served basis. Rooms are available at the discounted rates until the room block is full or until August 19, 2021, whichever occurs first. CMAA encourages you to book your room early!
To make an online reservation, please click the button above or contact the Marriott directly at 877-622-3056 and be sure to mention you are coming as part of CMAA2021.
Hotel COVID Safety and Protocols
CMAA and the Philadelphia Marriott Downtown place the highest priority on the safety of our attendees/guests. We will follow safety guidelines and protocols as outlined by the CDC and the WHO, as well as state and local mandates.

At this time, all hotel guests are required to wear a mask while in public areas of the hotel and anywhere that social distancing measures cannot be met. Meeting rooms will be set to comply with CDC, WHO, and applicable locally recommended social distancing guidelines. Food service will follow the safety guidelines implemented by the hotel.

To view all the safety measures that Philadelphia Marriott Downtown has implemented, please see the information listed on their website: https://whattoexpect.marriott.com/phldt
Important Notice
CMAA has received reports that wholesalers (brokers, travel agents, etc. who are not affiliated with CMAA nor the Conference Hotel) have been contacting attendees offering great deals on hotels for CMAA2021. While it is not illegal for a travel firm or booking agent to solicit potential customers, it can be difficult to determine the legitimacy of offers from these organizations. Those who opt for alternatives to the CMAA negotiated rates may find themselves at risk. CMAA reminds its attendees that we have no affiliation with any of these room brokers/travel firms. The only way to secure hotel accommodations at the CMAA rate is to book directly with the Marriott Philadelphia.