Lower Level Pump Station, Lake Meade, Southern Nevada Water Authority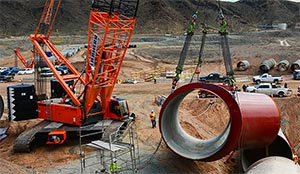 Severe drought along the Colorado River Basin has caused Lake Mead to drop more than 140 feet during recent years. Declining water levels jeopardize the operability of the Southern Nevada Water Authority's existing raw water intake pumping system. The Low Lake Level Pumping Station, currently under construction, will allow SNWA to pump raw water to both water treatment facilities even if Lake Meade levels are at dead pool (water unable to pass through Hoover Dam). Tour participants will get a presentation on the Lake Meade Intake No. 3 projects and walk the new pumping station construction site.
Las Vegas Raiders Stadium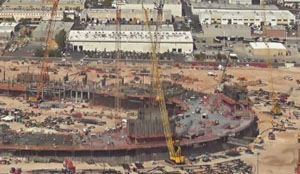 Construction is ongoing for this $1.8 billion stadium, which is expected to be complete in July 2020.  The stadium will feature state-of-the-art retractable doors, a glass-domed roof, and amazing views of the iconic Las Vegas Strip.  With more than 500 construction professionals working on the site, participants will have an opportunity to take a behind-the-scenes tour of a true entertainment marvel.
Want to register for one of the tours? Add it to your registration or contact Noelle Borman at nborman@cmaanet.org.