CMAA offers opportunities for construction managers who are preparing for the CMIT, CACM, and CCM exams, as well as those looking to maintain their current credentials or who would like to keep their construction management skills sharp. See the schedule below for all instructor-led (virtual or in-person) opportunities:
Interested in an on-demand self-paced course? Register for the online PCM Course and get access to the same training, available on-demand, when you are ready to learn.  CMAA also has additional online learning opportunities to fit your needs and schedule.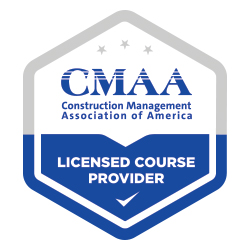 Don't see a course that meets your schedule needs? Check out upcoming courses offered by licensed course providers Anser Advisory, Hazen & Sawyer, Jacobs, MBP, and Turner & Townsend.
If you are interested in conducting training on construction management utilizing CMAA's content, then the course licensing program could be right for your organization. 
CMAA recognizes the strength of diverse perspectives and is committed to promoting diversity and ensuring equal opportunity, inclusion, and belonging for all persons in its membership, leadership, and activities. We are working hard to challenge assumptions, unlearn old habits, and make the CM profession open, welcoming, and inclusive. If you are aware of biased or non-inclusive language in CMAA materials, please help us by filling out this form.
Upcoming courses: