Apply Now   CACM Application Handbook
The Certified Associate Construction Manager® (CACM) recognizes professionals who have chosen a career in program and construction management and voluntarily met the prescribed criteria of the construction management certification program regarding formal education, field experience, and demonstrated capability and understanding of CMAA's Standards of Practice.
What is a CACM?  
The CACM certification is CMAA's mid-level credential that tests a CM's ability to lead aspects of a construction project or program. The CACM is appropriate for those who have more experience than a CMIT but are not yet ready to lead an entire project or program on their own. For example, a CACM is someone who may be put in charge of at least one part of a program or project, such as developing the schedule or inspecting the work.
Why Become a CACM?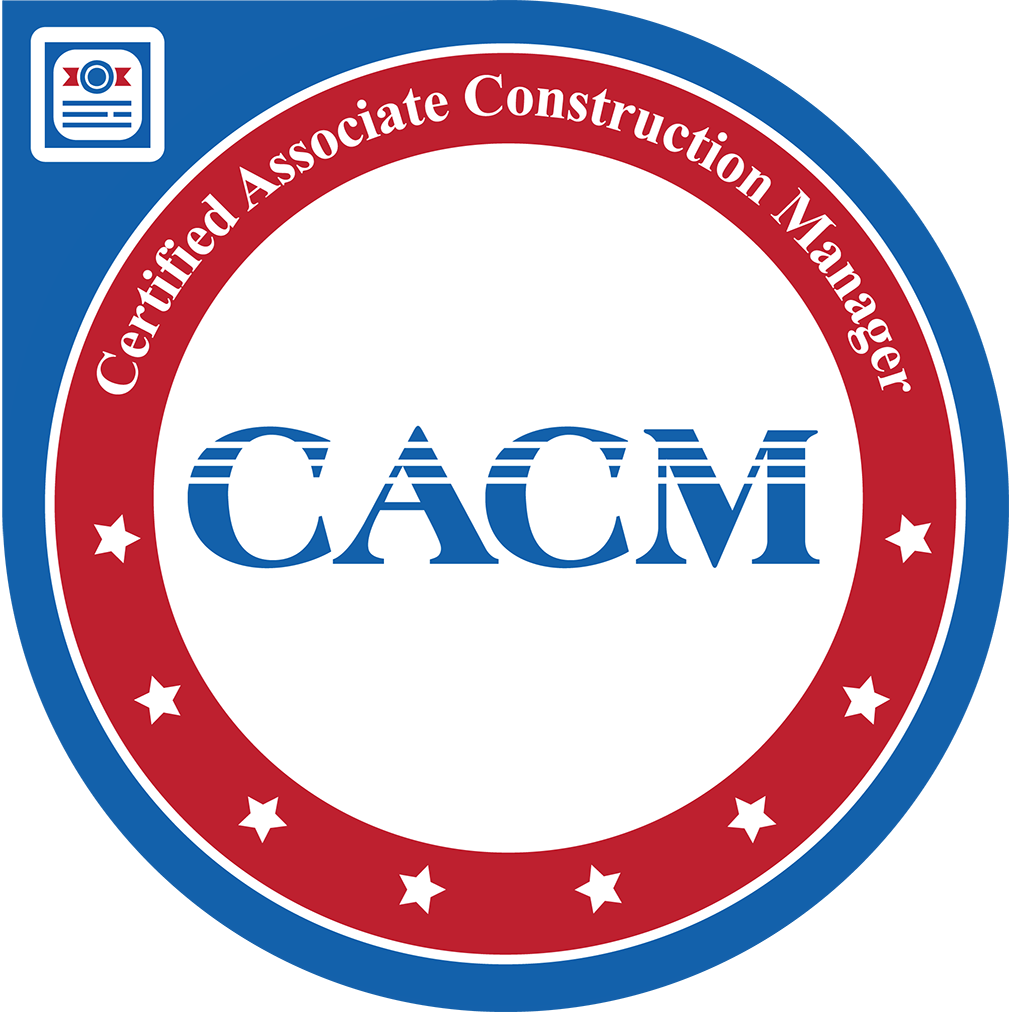 Show your clients, employers, colleagues, and other stakeholders your expertise in understanding the industry's Standards of Practice and validate your experiences in the construction industry. The CACM will help you demonstrate your commitment and skills as a construction program and project manager.
Increase your Professional Marketability: At a time when the industry needs skilled workers, the CACM validates your knowledge and skills. Having the CACM credential helps you stand out and showcase your knowledge and experience as a competent, professional construction manager. You can provide resolutions toward your team's best interests and complete successful programs and projects.
Display your Leadership and Professionalism: CACMs are looked at as the future of the construction management industry. The CACM is a sign of professional achievement and will help you validate to clients and supervisors that you are dedicated to your profession and that you are a qualified industry expert.
Receive a printed certificate and digital badge to show your CACM status.
CACMs pass a comprehensive exam that tests 10 practice areas, including management of time, safety, professional practice, technology, and costs.
Expand your Knowledge and Grow your Network:  As a CACM, you maintain your credibility by staying up to date with industry best practices, being engaged at industry events, and adhering to the code of ethics through the recertification process.
What Does a CACM Do?
CACM's understand the lifecycle of a construction program and project. They have experience and knowledge that can support the efforts of large-scale construction programs to help achieve a successful outcome for a project team. Having construction industry experience, coupled with an understanding of CMAA's Standard of Practice, a CACM is ready to manage various aspects of a program or project, such as scheduling, controls, budgets, design considerations, risk mitigation, and more. Having a CACM on every construction program and project team helps reduce risk, and stay on time, as well as on budget.
Why Should Organizations Hire CACMs for Programs or Projects?
The CACM can help individuals demonstrate to their organizations and clients that they are ready to take leadership responsibility for part of a project or program. The CACM examination tests judgment in real-life design and construction situations. To pass the CACM, applicants must understand the concepts, not just memorize facts on subjects.
Identify the Talent on your Team: CACMs must provide references to verify their experience and pass a comprehensive exam that tests 10 practice areas, including management of time, safety, professional practice, technology, and costs.
CACMs are required to recertify every three years by showing continued professional development or passing the CACM exam again.
Attract and Retain the Best Talent: By demonstrating your support for your team's continued professional development, employees stay longer at companies that support professional development.
Every three years CACMs are required to provide a minimum of 20 points earned by participating in training or volunteering within the industry and must submit continued education credit on safety and ethics as well.
Already a CACM? 
We would love to hear about your experience! Click here for more information.