Program Overview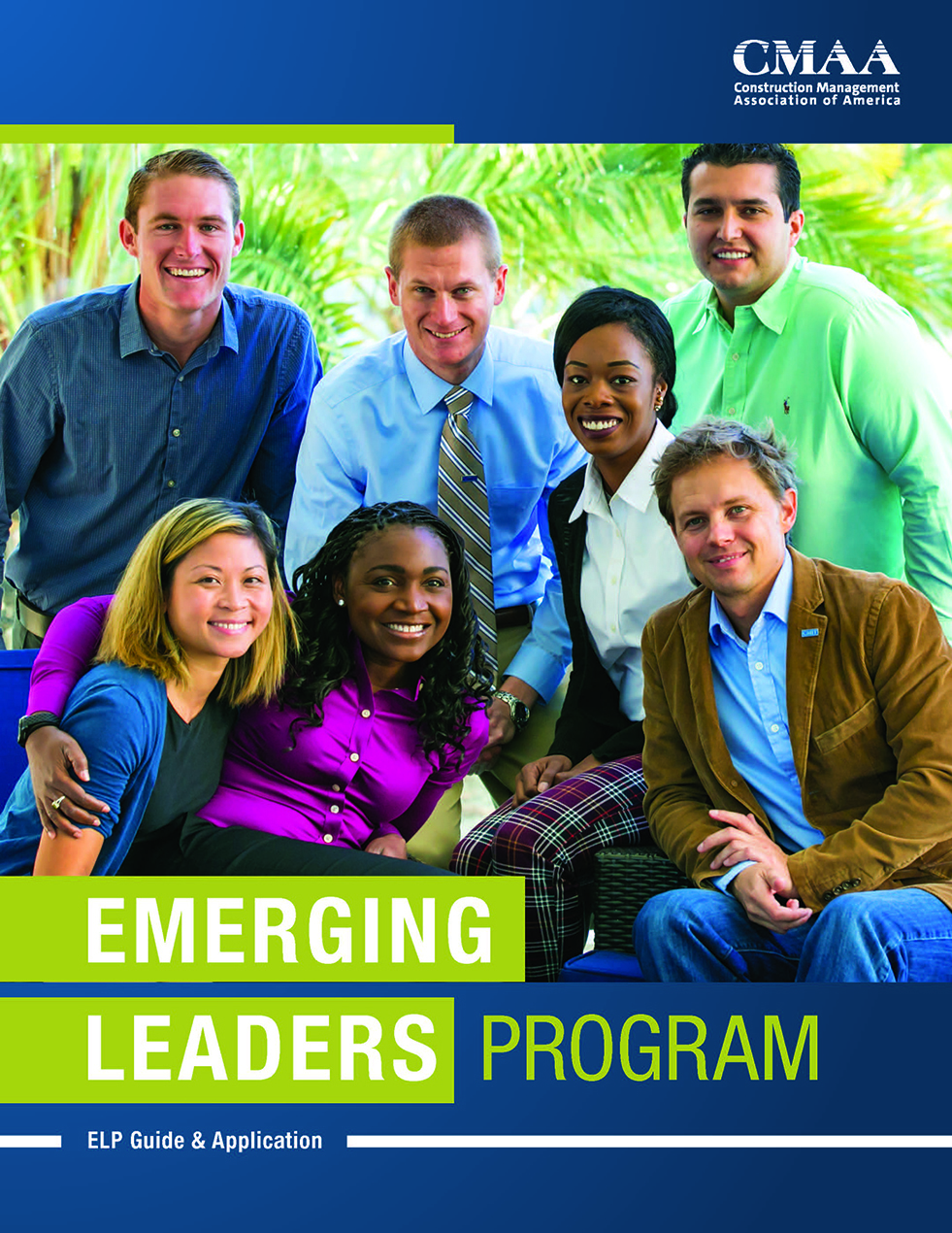 The CMAA Emerging Leaders Program (ELP) is designed to provide you with a robust, association leadership and networking experience, as well as prepare you to assume increasingly responsible roles within your organization, your local CMAA chapter, and within the national committee and governance structure.
The ELP is built around five core elements to help facilitate and encourage interactive engagement with professional construction managers and industry experts. In order to ensure the emerging leader experiences the industry's full spectrum of activities, the program is designed to incorporate the following aspects over the span of one year:
Attendance at both national meetings.
Face-to-face meetings and social events during the two national conferences.
Monthly, online learning sessions with association and industry leaders.
Strengths assessment.
A group presentation project.
Five Core Elements
Attendance at Both National Meetings. All participants will attend CMAA's two national meetings as guests of CMAA. The participants would be responsible for their travel expenses, while CMAA would cover the event registration. In addition to the conference, participants are also invited to observe all or part of the CMAA's Board of Directors Meeting and/or Chapter Leaders Meeting.
Face-to-Face Meetings and Social Events. Prior to the beginning of each conference, participants will meet with a designated "conference mentor" (e.g., a Fellow, CCM, or a CMAA volunteer leader) to review the conference program, discuss the learning opportunities, and build a schedule. The participants will meet briefly with the conference mentor at designated times during the conference to share and reflect on the experience.
Monthly Online Sessions. Participants will be invited to monthly webinar sessions hosted by CMAA. Each session would feature a CMAA or industry leader who would spend the first 20-30 minutes telling his/her story of professional and association experience, with the balance of the session left open for questions-and-answers and discussion.
Strength Assessment. It takes commitment to become the best you. Completing the strengths assessment will unlock personalized reports and resources participants need to maximize their potential.  The assessment measures talents, natural patterns of thinking, feeling, and behaving.
Group Presentation Project. Participants will present at the spring conference on a topic of their choosing. The session will be featured in marketing and promotional materials for the conference, and the participants will be recognized during a plenary session. Once a program year has concluded, the names of all participants will be shared with national and chapter leaders with recommendations for including these individuals in planning and implementing chapter events.
Application and Selection
The 2023 ELP cohort selection process is complete.
The cohort of participants is limited to 10 people. A completed application will consist of a form, an essay, transcript/resume, and a letter of support from an applicant's employer.
Form. This is a fillable PDF that captures the applicant's name, contact information, and a summary of his/her professional experiences.
Essay. This is limited to 2,000 words and asks the applicant to describe their objectives for participating in the program, commitment to construction management as a profession, and identifies long-term goals.
Transcript or Resume. Applicants must submit a qualifying degree or transcript. All documentation of education must be from institutions accredited by a U.S. regional accrediting agency.
Letter of Support. A brief letter from the applicant's employer, professor, or a CCM that commits the organization to providing the time to attend the national conferences, the online seminars, and the shadowing experience is also part of the application.
Once CMAA receives the application, staff will review it for completeness. If there is any missing material or information, the applicant will be contacted. Participants will be selected by a panel of three people: the current Chair of the CMAA Board of Directors, a chapter leader, and a member at-large. Every effort will be made to ensure that the review panel and the cohort are diverse and inclusive.
Application payments will not be processed until candidates are selected.  Those not accepted will not be charged.