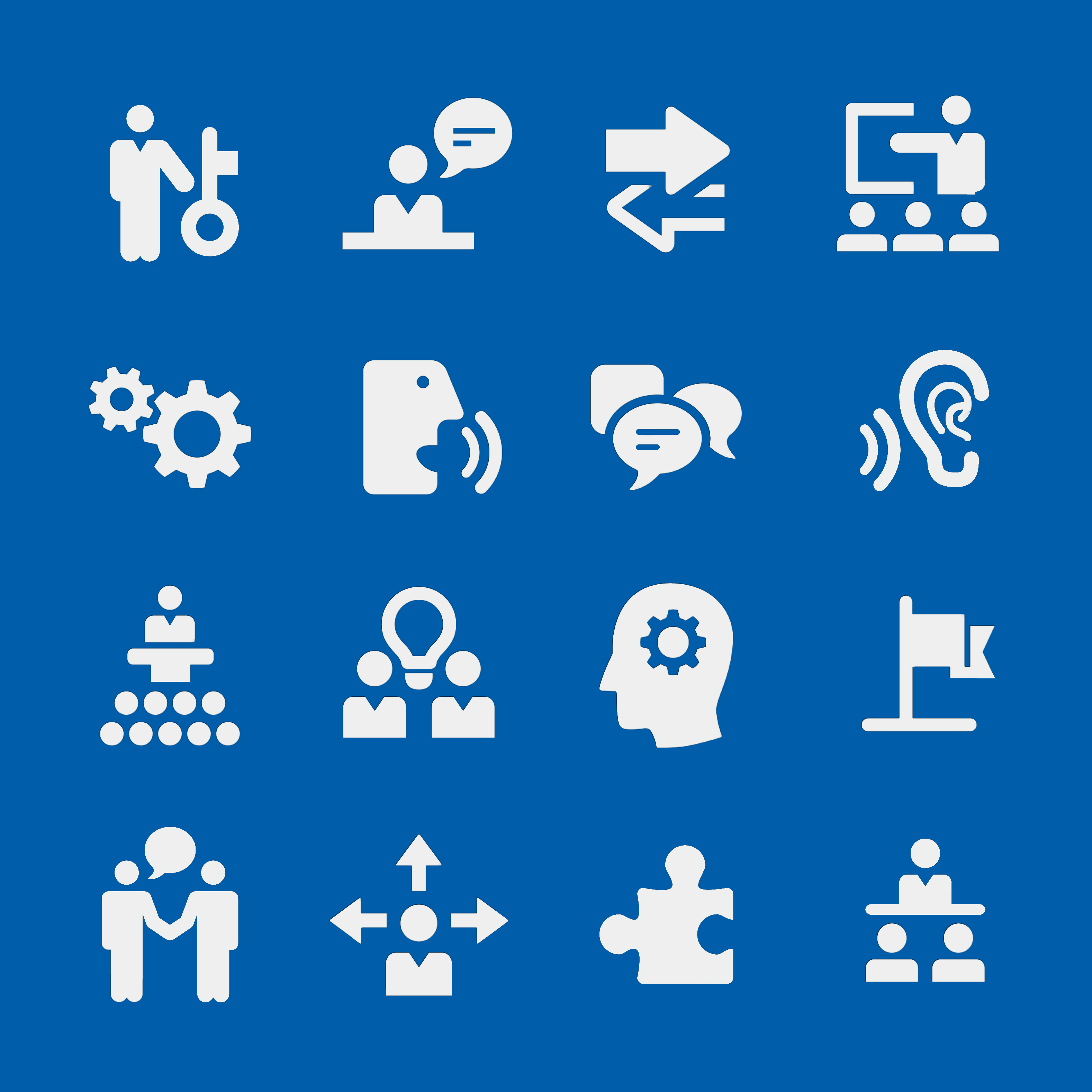 Designed specifically for professionals in the construction industry, the CMAA Leadership Library is an interactive, self-paced, online learning experience, based on the award-winning Emotional Intelligence program by Brent Darnell International (BDI), which dives into a wide variety of leadership skills to create positive, lasting change in you and your teams, and a cultural shift in your organization.
Each course within the program is built upon the two foundational courses – Emotional Intelligence in the AEC Industry: Parts 1 and 2. Individual courses include those on stress management, presentation skills, problem solving and innovation, relationship building, and diversity and inclusion.
Course completion: Each course consists of two parts: a learning module and a post-test. Upon completion of the course and passing the post-test with a score of 70% or higher, you will receive a certificate of completion.
Presented by: Brent Darnell
What do these courses cover?
|   | Each Course | Full Library |
| --- | --- | --- |
| Nonmember Price | $109 | $1099 |
| Member Price | $79 | $799 |
| Duration | 1 hour | 10 hours |
| Continuing Education | 1 PDH | 10 PDHs |
| Subscription | 365 days | 365 days |

 

 
---
Foundational Courses

Emotional Intelligence in the AEC Industry: Part 1
This course is the first of two foundational courses in the CMAA Leadership Library. In this course, you will learn the basics of emotional intelligence, how it is defined, and how it relates to success or failure in the Architecture, Engineering & Construction (AEC) Industry, especially with more collaborative project delivery methods. You will also understand how it relates to your own performance, success, and failure.
---
Emotional Intelligence in the AEC Industry: Part 2
The second of two foundational courses in the CMAA Leadership Library, this course will walk you through the Ghyst EI Test and generate a graph of your own emotional profile. You will explore the typical emotional profiles and patterns that we see, determine if you have one or more of these patterns, and identify how those patterns affect you and your interactions with others. In addition, you will create a development plan and explore ways to improve your emotional intelligence.
---
Follow-up Courses

12 Steps to Great Relationships
Relationships affect nearly everything we do. We derive connection and satisfaction from our interactions with others. We get ideas and encouragement, and it has been proven that people with great social networks actually live longer. This course will help you explore how to build better relationships, both personally and professionally, and will ultimately help you build better projects.
---
Diversity & Inclusion in the AEC Industry: Beyond Compliance
This course gets at the heart of diversity and inclusion, and endeavors to create true behavioral shifts to create a more diverse and inclusive industry. This course will take you beyond EEO compliance and the avoidance of lawsuits, and will help you implement practical steps to embrace diversity and inclusion for you as an individual and your organization, in your office and on your projects.
---
From Head to Heart: How to Differentiate Yourself in the Marketplace
This course will explore how you can create a positive emotional experience for your clients and stakeholders by applying emotional intelligence concepts to projects, offices, marketing, and branding. Putting these concepts into practice will make your competition irrelevant, your projects more successful, and repeat business a sure thing.
---
How to Present with Power and Influence
In this course, you will learn how to give a dynamite presentation. You will learn about the elements that create your persona, determine how people perceive you, and will walk away knowing how to adjust those elements for every situation and to your advantage. You will also use proven techniques of award winning actors to create a presence that is powerful and influential.
---
Primal Safety: A Gut Level Approach
This course provides an entirely different approach to safety. You will learn how focusing on the emotional side of safety not only fulfills a moral obligation to provide a safe working environment, but also can save projects money, increase productivity, decrease employee turnover rates, and encourage new people to enter the industry. You will also learn about the mind-body connection and how lifestyle choices and stress affect cognition (how we think) and judgment (how we choose).
---
Stress Management for Peak Performance
The AEC Industry is a highly stressful industry, and we are starting to see the effects of working with these high levels of stress. So how do we manage this stress in a positive way? How do we work at our highest levels of peak mental, physical, and emotional performance? This course lets you know what stress is doing to your body and how to create lifestyle choices for the highest levels of performance and stress management.
---
Think Like a Genius: Innovation, Creativity & Problem Solving
Creativity is vital to the success of your projects, and innovation is a huge key for your company to be more competitive. This course is essential for your competitive advantage and industry survival. Not only will you increase your own creativity, but you will implement ideas that will make your company more innovative.