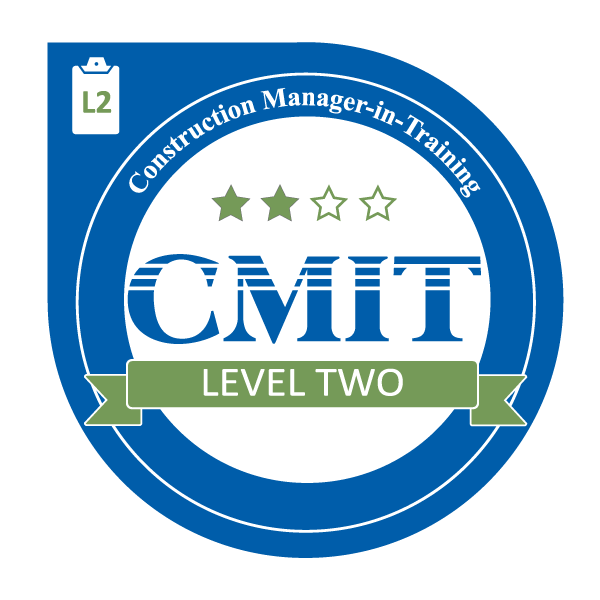 Apply Now     CMIT Level 2 Handbook 
CMIT Level 2 Letter of Experience
The Construction Manager-in-Training Level 2 (CMIT® L2) designation is an extension of the CMIT certificate, which recognizes professionals who are invested in the construction management industry and their own professional development. Earning the CMIT L2 demonstrates your continued growth and professional competence as a construction manager.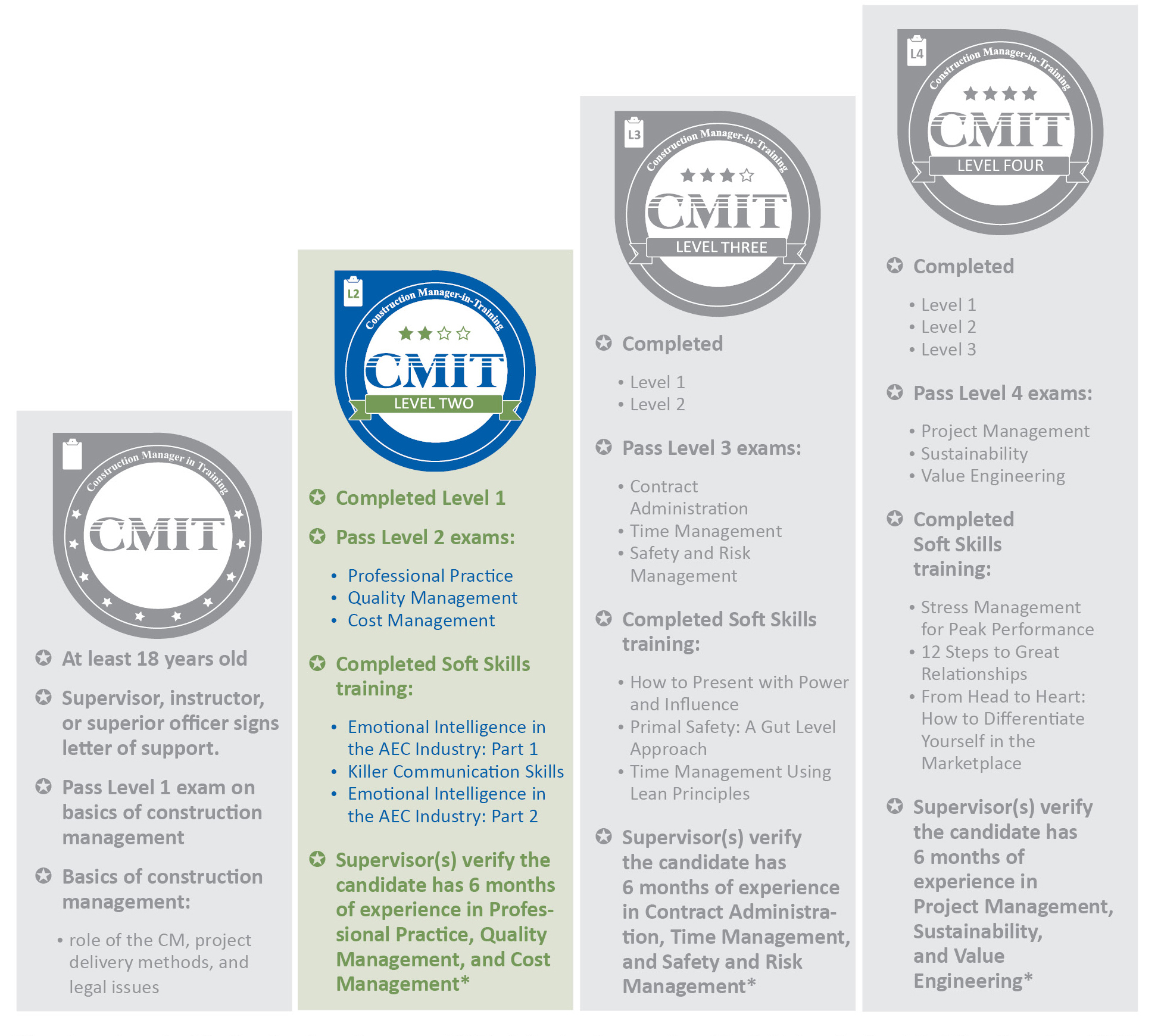 *Experience in each of the functional practice areas of CM is defined as time spent working in that professional discipline. There is no CMIT requirement for this experience to be as responsible-in-charge (RIC). For more on RIC, please see the CCM Application Handbook.
Eligibility
Individuals must meet all the following qualifications to apply for the CMIT L2:
Complete all requirements for the CMIT certificate (application approved by CMCI and pass CMIT examination).
Application Process
All applicants are required to read the CMIT L2 Handbook. Applications may be submitted online or using the PDF application in the accompanying Handbook.

Apply Now
CMIT L2 applications will not be processed until CMCI receives all portions of application sections 1-6 and the required fees. All CMIT L2 application fees are non-refundable.
 
CMIT Level 2 (CMIT L2)

Certificate Program Fees (US$)
Effective January 2, 2020

CMIT L2
CMAA Non-Member
CMAA Member
Active Duty U.S. Military
APPLICATION (includes study material and exam
$215.00
$185.00
$0
REAPPLICATION (for expired application)
$215.00
$185.00
$0
Examination Process
Candidates have one (1) year from when their CMIT L2 application was approved to pass the CMIT L2 examinations for professional practice, quality management, and cost management. Candidates are allowed three (3) attempts on each examination. Candidates also have one (1) year to complete the required soft skills training.
Candidates should consult the CMIT L2 Handbook for additional information about the examinations.
Letter(s) of Experience
Candidates have three (3) years from when the CMIT L2 application is submitted to provide a letter(s) of experience signed by the applicant's supervisor, superior officer, or an active Certified Construction Manager® (CCM®). Applicants must submit a signed letter of experience for each required construction management functional practice area:
Contract Administration*
Time Management*
Safety and Risk Management*
*More information on experience is available in the CMIT L2 Handbook.
Next Steps
Applicants who pass all the L2 examinations, complete the required soft skills training, and provide the necessary signed letter(s) of experience earn the CMIT L2 designation.

Those who hold the CMIT L2 designation are also eligible to apply for the CMIT Level 3.