The Construction Manager-in-Training (CMIT®) stackable credentials focus on the fundamentals of construction management practice and offer a pathway to learn how to become a competent and successful construction manager (CM).

The CMIT program is intended for the following persons:
Early career professionals focused on becoming a professional CM;
Mid-career professionals looking for a pathway to grow in their CM careers; and
Soon-to-be and recent graduates looking to begin their CM career.  
How Does the CMIT Program Work?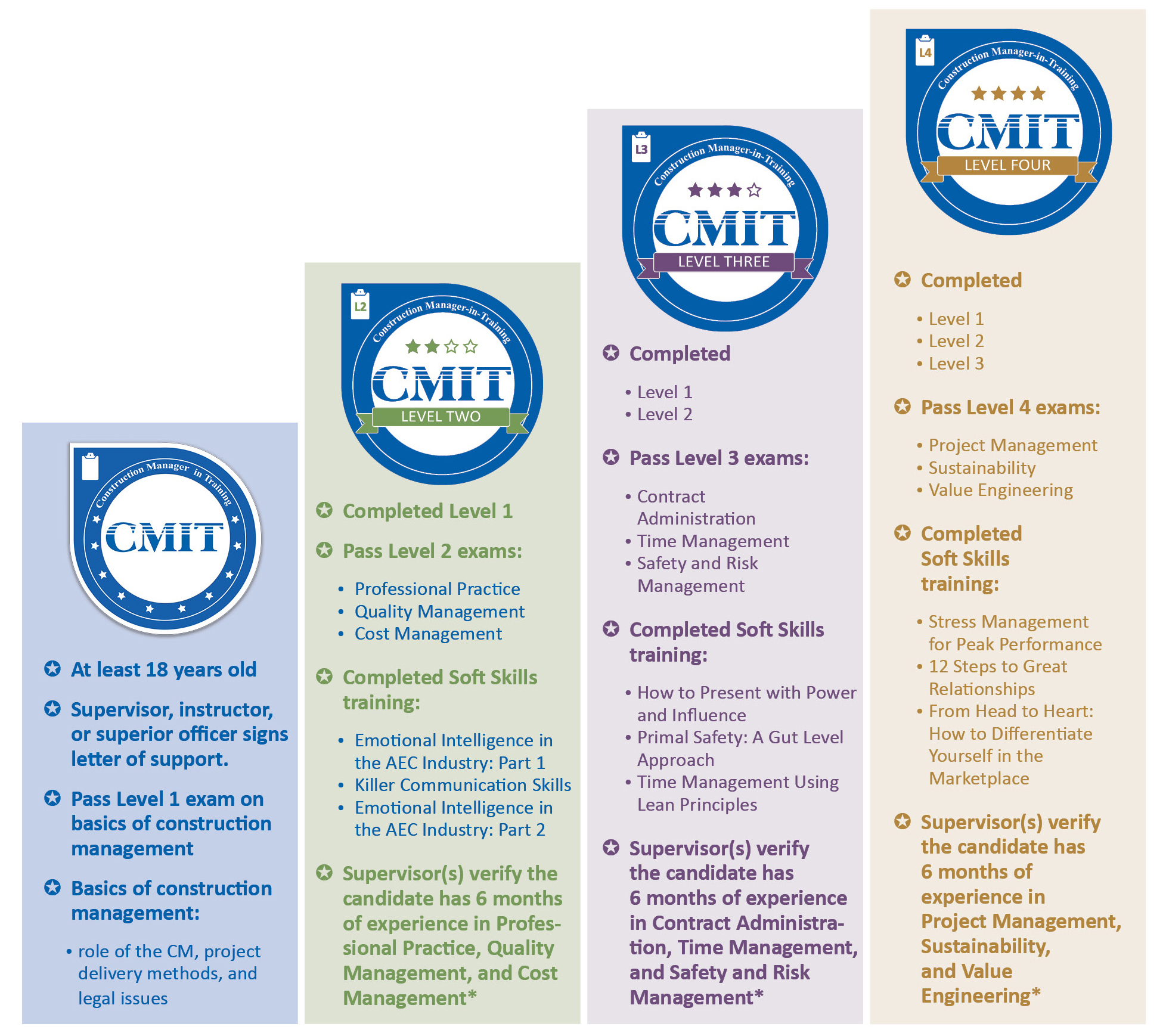 *Experience in each of the functional practice areas of CM is defined as time spent working in that professional discipline. There is no CMIT requirement for this experience to be as responsible-in-charge (RIC). For more on RIC, please see the CCM Application Handbook.

The CMIT stackable credentials program is divided into four (4) sequential levels, with each level demonstrating a credential holder's growing professional competence and experience in CM.  To earn a CMIT level, a candidate must meet all the requirements at that level and any previous levels. Each level is cumulative and must be completed in order. Applicants who pass the examination earn each CMIT designation for seven (7) years and will receive more information about how to identify and work with a mentor.
The CMIT program begins with the CMIT designation, which demonstrates competence in the practice of construction management early in an individual's career.

CMIT Level 2, Level 3, and Level 4 are extensions of the CMIT certificate and demonstrate a professional's growing competence and experience in the functional areas of construction management as they move forward in their career. Each level allows the credential holder to show their supervisor that they are progressing and continuing their growth in the field of construction management.
CMIT candidates who wish to appeal concerning eligibility or execution/accuracy of the exams are required to submit a complete CMCI Appeals Form. Appellants agree to adhere to CMCI's Appeals Agreement.
Why Become a CMIT?
Show supervisors, clients, and peers that you are committed to acquiring the knowledge and capabilities to become a professional, practicing construction manager by achieving the CMIT certificate and digital badge;
Increase awareness of the Body of Knowledge and principles represented by the Certified Associate Construction Manager (CACM) and the Certified Construction Manager® (CCM®) credentials and the construction management profession;
Connect with other CMITs and CCM mentors* to build your professional network; and
Utilize the CMIT program as the entryway toward CMIT Levels 2, 3, and 4 as well as develop your plan to become a CACM.

*The mentor-protégé relationship is an on-going and key aspect of the CMIT program. Mentors provide CMITs guidance and support to ensure CMITs are on the right track to obtain the program or project experience needed to qualify for CACM certification. Mentors and protégés create and manage development plans.
Already a CMIT? 
We would love to hear about your experience! Click here for more information.