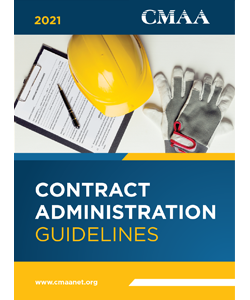 188 pages
The Contract Administration Guidelines address the administrative and reporting requirements for the construction manager (CM) during the execution of construction projects. This guideline supplements the Construction Management Standards of Practice by providing an overview of the typical contract administration responsibilities on a project from concept to occupancy.
World events continue to affect the construction industry, and CMs must be prepared to adapt by embracing advances such as improved virtual communication that allow projects to stay on track with minimal impact. This adaptability is an important component of successful contract administration. Of course, each project is unique, and the CM and contractor roles and responsibilities will vary.
Elements that impact contract administration include:
Project Type: Every project - such as airports, transit facilities, healthcare facilities, courthouses, and bridges - has a set of coordination and management tasks unique to each type of project.
Geographic Location: Projects in certain geographical areas may require working within union guidelines, and congested urban sites require extensive staging and sequencing management. Overseas projects have challenges including language, currency, and measurement systems.
Renovation versus New Construction: Projects involving renovation or rehabilitation in and around ongoing operations require a flexible set of management tasks because of many unknown impacts.
Project Delivery Method: The delivery method used during a project will significantly impact the CM's responsibility for project management and coordination.
Sustainability & Resilience: Projects may need to meet sustainability/resiliency requirements such as Leadership in Energy and Environmental Design (LEED), Green Globes, or Envision ratings. Many of these may be jurisdictional requirements for federal, state, or local government facilities.
Depending on the details of the contract with the owner, the CM may only be involved with one phase of the project (e.g. the construction phase) or all phases based on the scope of work negotiated with the owner and the project delivery method used. The CM may need to complete numerous pre-design and/or design guidelines during the construction phase if those services are in the CM's agreement with the owner. Accordingly, the procedures in this guideline must be adapted to fit the needs of the project, the CM's scope of work, and the project delivery method selected.
All publication sales are non-refundable.