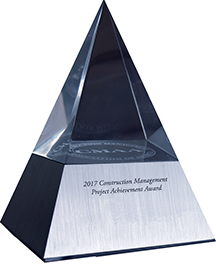 Project Achievement Awards
Each year, America's leading professional construction and program managers deliver creative and innovative projects around the world. Many of these projects have a great story to tell. Regardless of size or complexity, successful projects represent lessons learned in our industry, and we want to know about them!
CMAA's Project Achievement Awards program highlights the best of the best, those projects that serve as an example to the industry, and are true pinnacles of excellence and innovation. Now is your time to shine. This year, the spotlight could be on you and your project team.
Have you completed a project you're very proud of? Do you want to recognize your project team's commitment to excellence? Is your project an example of successful construction/program management? If the answer is yes, we invite you to compete for a 2021 Project Achievement Award.
Organizations both large and small are invited to submit project nominations. Awards speak volumes about the level of service a firm provides. Here's your chance to showcase your best work to the entire industry – and be part of a productive multi-tiered program honoring your accomplishments.
Learn more about the 2021 Submission Process
Important Instructions and Dates...
The first step in your 2021 CMAA Project Achievement Award submission is to complete the entry purchase.  Once your payment has been received, you will be sent the link for the project submission portal.   You will have the ability to edit/update your PAA entry up until the deadline of June 5. 
June 5, 2021 - Final project nomination submissions due.
July 9, 2021 - Submitters will be notified of the status of nomination (winners will be notified).
July 16, 2021 - Winning projects will be notified on 2021 CMAA Project Achievement Awards ceremony and activities.
See the 2020 Project Achievement Award Winners
See our 2019 Project Achievement Award Winners