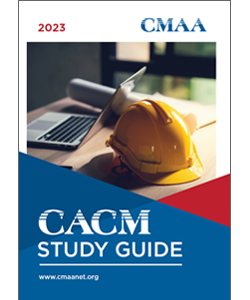 203 pages
Design your study plan and prepare effectively to earn the prestigious Certified Associate Construction Manager (CACM) credential.
The CACM Study Guide provides detailed explanations of the application and examination processes, self-assessment exercises to help you understand how ready you feel you are for the CACM, tips to form an effective study plan, summaries of the subjects on the exam, a glossary of terms, and 50 practice questions (with answers, explanations, and references). The CACM Study Guide also includes recommendations for other CMAA and non-CMAA materials that may help you prepare for the test.
Highlights of the CACM Study Guide include:
CACM exam content outline;
Easy-to-use readiness self-assessment, including ways to identify your learning preferences;
Suggestions for mapping a study plan, including elements of a plan and ideas for customizing reading and preparation to a timeline that suits you;
Suggested readings for each area of the exam;
Key terms and glossary;
Ideas for tackling areas of difficulty;
Last-minute prep and test tips; and
Practice questions.
Use the CACM Study Guide to help guide your preparation for the examination.
CMAA offers this CACM Study Guide as a resource to guide you through the topics you might encounter on the test, but it is not meant to be the only resource you use and does not guarantee a passing score.
All publication sales are non-refundable.