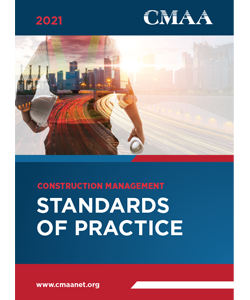 218 pages
CMAA's flagship publication, the Construction Management Standards of Practice, defines the range of services that constitute professional construction management and serves as an indispensable guide for owners and service providers. The Construction Management Standards of Practice is intended to provide a menu of construction management services and prescribes an industry standard which the construction manager (CM) will meet or exceed.
This revision to the previous 2015 version includes a new section on the CM's role in technology management and updates throughout on issues such as sustainability/resiliency, project delivery methods, contract administration, claims, time, cost, quality, safety, and risk management that reflect current industry best practices.
All publication sales are non-refundable.