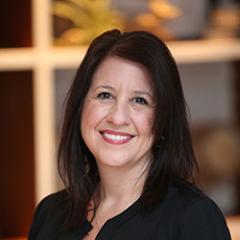 Christine Oates, CCM, Vice President, Operations Leader PMCM Buildings Northeast, Jacobs, became the new Chair of the Board of Directors of the Construction Management Association of America (CMAA) at CMAA2022, the association's national conference in San Diego, Calif.

Christine is an industry leader in the construction management profession with over 25 years of experience including leading critical public and private sector buildings and infrastructure projects, providing sales and business development, and currently leading operations for the PMCM Buildings Northeast unit at Jacobs.
Christine started with CMAA just about 20 years ago volunteering to support the local NY/NJ chapter in a variety of roles including newsletter, student scholarship and outreach, and support of the annual awards banquet. It was through these early engagements, encouragement by the NY/NJ Board of Directors, and her supervisor that she became passionate about wanting to take an active role in CMAA. Christine went on to serve on the NY/NJ Board of Directors and eventually as President of the Chapter. During her tenure as Chapter President, the Chapter received Chapter of the Year.

Also during this time, Christine received her Certified Cosntruction Manager (CCM®) and became a course instructor for the Cost Management Module of the Standards of Practice course, where she provided instruction to both the public and private sectors encouraging and supporting construction management professionals to achieve their certification. Christine joined the National Board of Directors in 2017 serving in a variety of roles, including chairing the Strategic Framework Committee.

Christine holds a Bachelor of Science Degree in Civil Engineering from Manhattan College and a Master's Degree in Business Administration (MBA) from Pace University and is a CCM and a Design-Build Professional (DBIA).

"I am excited to be in the role as Chair of CMAA, allowing me to have a more national reach to promote CMAA and all the benefits it provides the membership from professional development, networking, access to advocacy issues and updates, and to be part of an organization that not only provides personal benefits to its membership but an organization that builds better… projects, people, environments, equity, workforce, and diversity," Christine said.

"My goal this year is to deploy the tactics that are aimed at meeting the outcomes of the strategic framework that was developed and approved in spring of 2022, which includes Transform Project Execution, Shape the Profession, and Establish CMAA as the Premier Resource."

Serving as CMAA Board of Directors Officers for 2022-2023:
Chair - Christine Oates, CCM | Jacobs
Chair-Elect - Khaled Naja, PE, CCM | Dallas/Fort Worth International Airport
Immediate Past Chair - Brian McCarthy, PE, CCM | CDM Smith
Secretary - Doug McCutchen, CCM | Keville Enterprises, Inc.
Treasurer - Michael Houston, CCM | The Bowa Group, Inc.
Vice Chair - Jim Murphy, CCM | STV
Vice Chair - Anne M. Timmermans, CCM | Parametrix
See more about the CMAA Board of Directors here.