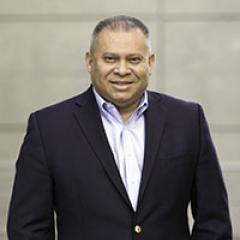 The Construction Manager Certification Institute (CMCI) announces Lionel Zapata has received the 2020 Mehdi Heydari CCM of the Year Award.

Lionel, Sr. Federal Program Manager with HDR, is a Certified Construction Manager (CCM) and a licensed Professional Engineer with more than 23 years of experience. He demonstrated his technical leadership as a CCM over a broad range of major infrastructure programs and projects that include mission critical projects/programs, facilities on military installations, transportation, water and resources projects, and waterfront facilities.

Since January 2017, Lionel has served on the Construction Management Association of America (CMAA) Professional Development Committee. Lionel participated in revising the CMAA Project Management Guidelines, as well as Contract Administration Guidelines. His devotion in providing excellent customer service and passion for teaching the principles of construction management led him to become one of CMAA's first Authorized Trainers.

Lionel has taught the CMAA Professional Construction Management (PCM) Course, directly impacting over 50 owner employees and even more industry partners. He has facilitated and moderated sessions at CMAA conferences, as well as online educational sessions that will impact countless potential new CCMs. Lionel also is active in several Society of American Military Engineers (SAME) posts throughout the nation.

Through his efforts as a practicing construction manager supporting Federal agencies and his demonstrated commitment and service to CMAA and the membership, Lionel has proven himself deserving of this prestigious recognition.