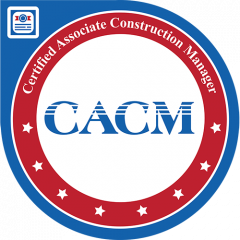 The Construction Manager Certification Institute (CMCI), a subsidiary of the Construction Management Association of America (CMAA), announces the release of a new credential for qualified construction managers, the Certified Associate Construction Manager® (CACM). The CACM recognizes mid-career professionals who voluntarily meet the CACM's eligibility requirements, including formal education, field experience, and passing a written exam.

"CMCI is proud to launch the CACM designation to help retain talent and fill a critical gap within the industry," said Raoul D. Ilaw, PE, CCM, FCMAA, Vice President at STV Construction Management and CMCI's Immediate Past Chair. "The CACM helps owners and employers identify professionals who are ready to move beyond entry-level tasks and help lead projects and programs. The CACM provides a path for these mid-level professionals who are ready for more but might not yet be able to lead entirely on their own."

Between 2018 and 2022, CMCI conducted a needs assessment and job task analysis which involved hundreds of construction management professionals and conducted a survey to identify the importance of hundreds of topics for mid-career construction management professionals. CMCI then pilot-tested examination questions to ensure that the examination was valid, reliable, and secure. This entire process followed the International Organization for Standardization (ISO) 17024 standard.

The CACM has different requirements and is separate from CMCI's other credentials, the Certified Construction Manager® (CCM®) and the Construction Manager-in-Training (CMIT®) stackable credentials.
CCM: All candidates must have at least 48 months of responsible-in-charge experience leading all aspects of construction projects or programs.
CACM: All candidates must have either a minimum of 12 months of responsible-in-charge experience or four years of general design/construction experience.
CMIT: The CMIT stackable credentials are CMCI's entry-level designations that require no prior experience to begin and six months of general experience to advance to CMIT Levels 2, 3, and 4.
"CMCI has credentialed qualified construction managers for over 25 years. After the introduction of the CMIT in 2009 and now with nearly 8,000 CMITs, CMAA and CMCI wanted to build a credential for mid-career program and construction management professionals that would fill the gap between CMIT and readiness for the CCM," said Andrea S. Rutledge, CAE, CMAA's President and CEO. "The CACM is designed to meet that need. The addition of the CACM is the latest step in CMCI's continuing effort to provide career pathways with various points of entry that lead to the growth and development of the next generation of program and construction management professionals."

See more about the new CACM here.