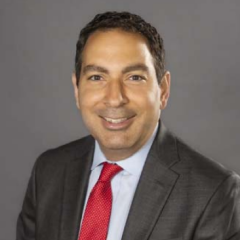 Khaled Naja, PE, CCM, CEO of Cruise Terminals International, recently became the new Chair of the Board of Directors of the Construction Management Association of America (CMAA) at CMAA2023, the association's national conference in Washington, D.C.

Khaled is a globally-recognized C-suite leader with cross-industry expertise in private equity infrastructure, capital planning, commercial development, construction management, asset optimization, and infrastructure operations. Khaled offers strategic insight and leadership on infrastructure and development worldwide.
Prior to taking the chief executive officer role at Cruise Terminals International, Khaled was the executive vice president at Dallas Fort Worth International Airport, and before that helped lead the global aviation division at Parsons Corporation.
Khaled is a member of the CMAA North Texas Chapter, where he first became active in the association. In 2022, Khaled served as Treasurer of the Board, where he served as the Chair of both of the Audit Committee and the Investment Advisory Committee. After serving as Chair-Elect for 2023, Khaled has now become the CMAA Board of Directors Chair.
"When I joined the National Board, what struck me was the abundance of talent," Khaled said. "Directors generously share their time, thoughts, opinions, and commitment to our profession and association. I am grateful to each of them, and I eagerly anticipate continuing this remarkable journey with them in the year ahead."
Khaled was honored as one of Engineering News Record's (ENR) Top 25 Newsmakers in 2021 for innovation in modular terminal construction, a first-of-its-kind maneuver, which resulted in a paradigm shift in airport terminal development. In 2023, he was elected to the membership of The National Academy of Construction for being an innovative leader and strategist, particularly in sustainability, technology, modularization, and use of digital analytics for successful predictive outcomes.
In his acceptance speech at CMAA2023 on October 30 in Washington, D.C., Khaled committed to: 
Expanding CMAA's advocacy initiative with objectives for preferences for Certified Construction Managers (CCMs) and a federal position classification for program and construction management professionals.
Developing a strategy for international engagement that advances CMAA's strategic objectives for knowledge, best practices, and engaging other organizations.
Defining the role of program and construction management professionals in delivery methods, other than design-bid-build and positioning CMAA to effectively champion the profession across the industry.
Upholding and further fostering CMAA's commitment to diversity, equity, inclusion, and belonging within the industry.
Advocating for and showcasing how CMAA Builds Better — whether it's in people, projects, programs, or education.
"Throughout, I am committed to diligently implementing our strategic framework, ensuring that we meet our goals and aspirations. CMAA is fortunate to have a dynamic Board of Directors, reflecting the diversity that defines our industry. I commit as the Chair of CMAA to serve the members of this remarkable association and ardently uphold CMAA's Vision and Mission. I eagerly anticipate an extraordinary year ahead," Khaled said.
Andrea S. Rutledge, CAE, CMAA President and CEO, expressed her thoughts on CMAA's new Chair, "Khaled's contributions on the Board of Directors and the Association for the past five years has been remarkable. He always challenges me and others on the Board to think a bit more outside the box to meet the Mission and Vision of the Association. I look forward to seeing what the Board will accomplish in the coming year with Khaled as Chair."