Becoming a sponsor, partner or advertiser with CMAA shows your support, while at the same time increasing visibility and brand recognition among our membership of owners, executives of construction management service providers, individual practitioners, and others in the construction industry. There are several different sponsorship, advertising and partnering opportunities to choose from to help you meet your company's goals. 
CMAA Strategic Partners
| | |
| --- | --- |
| | Autodesk Construction Cloud combines advanced technology, a unique builders network, and predictive insights to connect people and data across the entire building lifecycle, from design through operations.   |
| | HDR mitigates construction risk with superior leadership and efficient practices with skilled, professional construction management, construction engineering and inspection, construction administration, and environmental monitoring staff members that serve clients as on-site representatives. |
| | Increase your productivity and minimize risk with InEight's cloud-based construction project management software. Solutions span projects from design to estimate and from field execution to turnover.  |
| | The all-in-one construction management software built to help you finish quality projects—safely, on time, and within budget. |
---

Current Sponsorship, Partnership & Digital Advertising Opportunities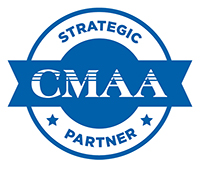 Strategic Partnership Program 
The CMAA Strategic Partner Program provides a valuable opportunity to partner with CMAA and maintain a strategic, consistent, high-profile presence with CMAA's members. Each sponsorship platform is tailored to maximize your ability to reach your audience and meet your company's bottom line objectives. 

More Information about Strategic Partnerships
*Events/Conferences are not included 
*Customized packages are available (and can include events, if needed) 


Digital Advertising 
A variety of digital advertising opportunities are available to connect you with CMAA members, and others in the construction management industry, all year long: 
- Advertise on the CMAA Website
- CMAA MCX Ad & Content Advertising 
- CMAA Product Demo Showcase
- Retarget your ads to those who have visited the CMAA website

More Information on all Digital Advertising Opportunities 

CMAA Focus22
Held in the spring, CMAA Focus22 explores markets, trends, and  factors which contribute to success in delivering projects. Speakers focus on providing in-depth and useful information on key industry topics including financing, partnering, contracts, leadership, legal and regulatory issues, bonding, risk management, workforce issues, and current market research. Sponsorships will be available. 
Save The Date:
March 20-22, 2022
Renaissance Chicago 
Downtown, Chicago
 
CMAA Annual Conference
Held in the fall CMAA2022, is CMAA's flagship event which includes a comprehensive exhibit hall, plenary and breakout sessions, and the annual Industry Recognition Awards where our annual Project Achievement Awards, Person of the Year, and other individual honors are presented. Sponsorships and exhibit spaces will be available.
Save The Date:
October 9-11, 2022
Marriott Marquis
San Diego Marina, San Diego, Calif.
-------------------------------
 
Download the CMAA Connections Prospectus For Sponsorship and Advertising Opportunities 
Questions? Please contact Michelle Anysz, Director of Business Development, at 703-995-7384 or manysz@cmaanet.org