Becoming a sponsor, partner, or advertiser with CMAA shows your support, while at the same time increasing visibility and brand recognition among our membership of owners, executives of construction management service providers, individual practitioners, and others in the construction industry. There are several different sponsorship, advertising and partnering opportunities to choose from to help you meet your company's goals. 
CMAA Strategic Partners
 

Connect workflows, teams, and data at every stage of construction. Autodesk Construction Cloud products connect workflows, teams, and data to help you build better.
 

Projectmates helps make data-driven decisions to control costs, schedules, and risks on large projects. The cloud-based construction program management software enables Owners to easily manage the full project life cycle in one centralized platform, eliminating the need for multiple applications.

STV is a leader in providing architectural, engineering, planning, environmental, and construction management services for transportation systems, infrastructure, buildings, energy, and other facilities. Through our commitment to quality and innovation, we are creating a better future.
---

Current Sponsorship, Exhibit, Partnership & Digital Advertising Opportunities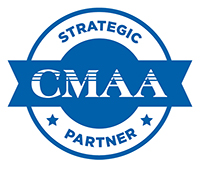 Strategic Partnership Program 
The CMAA Strategic Partner Program provides a valuable opportunity to partner with CMAA and maintain a strategic, consistent, high-profile presence with CMAA's members. Each sponsorship platform is tailored to maximize your ability to reach your audience and meet your company's bottom line objectives. 
More Information on Year-Long Digital Strategic Partnerships
*Customized packages are available; Conference sponsorships can be added

Digital Advertising 
A variety of digital advertising opportunities are available to connect you with CMAA members, and others in the construction management industry, all year long: 
- Advertise on the CMAA Website
- CMAA MCX Ad & Content Advertising 
- CMAA Product Demo Showcase
- Retarget your ads to those who have visited the CMAA website
More Information on all Digital Advertising Opportunities 
 
*NEW OPPORTUNITY*  Construction Leaders Podcast Sponsorship
An original podcast presented by CMAA, the Construction Leaders Podcast focuses on the latest in capital management and the issues and challenges facing program and construction managers today. The season features a new episode each month with guests discussing what's impacting the construction industry the most. Contact Michelle Anysz for more information on sponsoring a podcast. 
More Information on The Podcast
 
CMAA Focus23 - Save the Date! 
March 19 - 21, 2023
San Antonio, Texas
Sponsorships will be available.  
Held in the spring, CMAA Focus23 will explore markets, trends, and factors which contribute to success in delivering projects. Speakers focus on providing in-depth and useful information on key industry topics including financing, partnering, contracts, leadership, legal and regulatory issues, bonding, risk management, workforce issues, and current market research.

CMAA2023 - Save the Date! 
October 29-31, 2023
Marriott Marquis
Washington, DC (National Harbor)
Sponsorships will be available.  
Held in the fall CMAA2023, is CMAA's flagship event which includes a comprehensive exhibit hall, plenary and breakout sessions, and the annual Industry Recognition Awards where our annual Project Achievement Awards, Person of the Year, and other individual honors are presented.

CMAA2023 Expo - Save the Date! 
October 29-31, 2023
Marriott Marquis
Washington, DC (National Harbor)
Exhibit Space will be available.  
Network with Owners and Representatives from CM Firms From Around the Country: Architect of the Capitol, U.S. Department of Veterans Affairs, Jacobs, AECOM, General Services Administration, Hill International, Whiting Turner, VDOT, Gannett Fleming, plus so many more. 90% of CMAA attendees are decision makers, many of them senior level executives.

-------------------------------
Questions? Please contact Michelle Anysz, Director of Business Development, at 703-995-7384 or manysz@cmaanet.org