Sunday, March 10 - Tuesday, March 12
CMAA Focus24...
Reliable. Effective. Accountable. Leadership.  Delivering the Future of the Profession.
Submission Deadline: October 13, 2023
The Construction Management Association of America (CMAA) invites program and construction management (PM/CM) professionals, faculty, students, and all those involved in design, construction, and management in the built environment to submit education session proposals for CMAA Focus24. We recommend you view the full RFP details, including recommended topics, guidelines, requirements, and tips for preparing your proposal prior to submitting. Use this template to draft your proposal, then copy/paste from the template to complete the online form.
Overview
CMAA Focus24, an in-person and interactive experience, is designed to provide attendees with learning experiences that are valuable to the recipient, relevant to the evolving industry, unique to the profession, and optimal for project and program outcomes.
CMAA Focus24 will provide attendees with valuable insights to leverage leadership skills, technological innovations, digital tools, trends, and resiliency best practices that pave the way for innovative and successful project/program execution.
The goal of CMAA Focus24 is to provide PMs/CMs with the knowledge and skills they need to assume greater responsibility on jobsites, within their project and program teams, and among the profession.
For 2024, CMAA has identified a learning matrix - topics with strategic learning outcomes. The matrix identifies learning outcomes that increase PM/CM professionals' capacity to address challenges and opportunities in the current program and project delivery environment. Proposals for CMAA Focus24 should address ways of improving the professional PM's/CM's performance as a leader and their ability to overcome the obstacles and challenges they face in their professional lives. Sessions should provide content and learning opportunities that attendees cannot get elsewhere.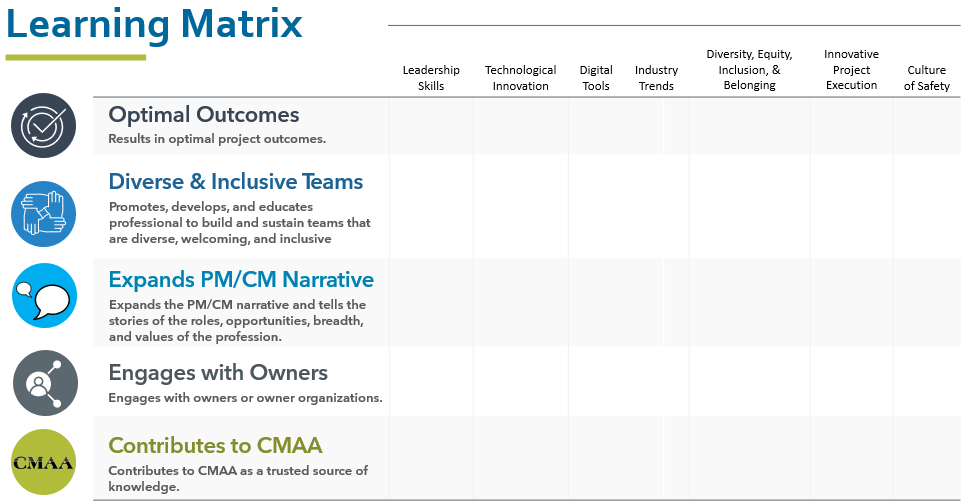 CMAA is delivery method neutral and encourages sessions that cover a variety of methods.
CMAA Focus24 will feature interactive sessions that engage the audience and encourage participation. Proposals for sessions that rely on lecture format will not be accepted.
View RFP details  Download RFP Template  Submit a Proposal 
 
Deadline: October 13, 2023
Location
Philadelphia, Pa.
Philadelphia Marriott Downtown
1200 Filbert Street
Philadelphia, PA 19107
United States