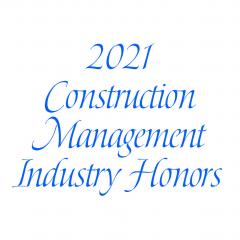 Vienna, VA, USA – The Construction Management Association of America (CMAA) has announced the winners of its 2021 Industry Excellence Awards.

CMAA's Award Program recognizes excellence in construction management practice and honors companies and individuals each year based on merit. A panel of judges reviews each nomination carefully and chooses the best candidate in each category.

Lisa C. Sachs, CCM FCMAA, FAIA, Managing Principal, Cumming, is the CMAA 2021 Person of the Year. This award is given annually to an industry leader who has made significant contributions on behalf of the construction management industry. This industry advocate possesses unparalleled leadership, high quality workmanship, and has an outstanding record of accomplishment.

Oscar Zavaleta, The Montez Group, Inc., has received the CMAA Chair's Award for Diversity and Inclusion. This award recognizes a CMAA member or member firm with a demonstrated commitment to equity, inclusion, social justice, or community and social responsibility and a record of acting on that commitment.

Austin Chaffee, CMIT, Assistant Project Manager, Jacobs, has received the CMAA Distinguished Young Professional Award. This award recognizes and celebrates a full-time professional for outstanding professional accomplishments and a commitment to the construction management industry early in his/her career.

Michael Mendick, PE, CCM, District Engineer, Connecticut Department of Transportation, has received the CMAA Distinguished Owner Award. This award recognizes an owner member who understands the value of a professional construction manager on the job and whose consistent actions, over a number of years, have made meaningful/extraordinary contributions to the advancement of the construction management profession.

Ossama Salem, PhD, PE, George Mason University, has received the Mark Hasso Educator of the Year honor. This honor emphasizes excellence in teaching and recognizes a full-time educator for outstanding professional accomplishments and a commitment to construction management education.

"Each of our award winners work hard to make a difference, and we commend each of them for their achievements and contributions to the construction industry," states CMAA President and CEO Andrea S. Rutledge, CAE.

CMAA will honor its award winners during the organization's in-person conference, CMAA2021, September 12-14, 2021, in Philadelphia, Pa.
Visit www.cmaanet.org for more information. Entries for the 2022 awards program will open in March.